Our Story
First Impressions (September 2012)
William: I first met Mindy during an evening out in Fort Greene, Brooklyn with mutual friends for drinks. It was a rainy night so when Arminda arrived she sat down and changed into a spare pair of dry shoes. It was so practical and prepared I couldn't believe it. I think the first words I said to Mindy were, "Are you changing your shoes?!"
Arminda: I remember looking up, a bit confused at who in our friend circle was British, and saw Will for the first time looking at me perhaps a bit amused. I smiled but answered matter-of-factly that Yes I was, and then lost focus of Will after that moment, pulled into conversation with the rest of the group. Later on when we all moved to No.7 for a late dinner, Will and I ended up seated next to each other at the large table and I finally started to truly take notice of him. He was charming, quite attractive, and funny to the point that I was constantly laughing out loud.
William: As the evening went on I thought Mindy was fun, intelligent, and had a great sense of humor. I remember distinctly that Arminda had a beautiful smile and was all around beautiful.
Arminda: Upon realizing that we both worked in Midtown, Will said we should grab lunch sometime which I thought sounded nice. He then preceded to say that his building's cafeteria was really nice and we could eat in his building— at this point it dawned on me that this was likely some dry British joke, so I declined the offer with a polite laugh and turned away before it got awkward.
Our First Date, as told by Arminda
It turns out (for the most part) Will wasn't joking about seeing me again, because following that dinner he asked a mutual friend for my number. Given the initial awkward cafeteria-conversation, I told Will that it would be best to hang out as friends. I suppose the ever-optimistic William imagined this was at least a starting point so he agreed.
I chose Bierkraft for our first 'non-date.' I remember we were texting each other as both headed there; it was becoming a playful competition to see who would be first in the door. Will beat me by a few minutes and when I arrived I set my belongings including my copy of the rather imposing book, The Power Broker, on the table. Will picked it up and said, "Ahh, The Power Broker... Pulitzer Prize winner..." Extremely excited that he may know about the topic, I eagerly asked if he had read it. He said No (pointing at the Pultizer sticker on the cover to indicate his detective handy-work) and told me he had only read seven books in his life that weren't required reading. I am also pretty sure he quoted Willy Wonka and The Chocolate Factory as one of those seven. At this point, I felt confirmation that any potential for a romantic relationship was lost so I loosened up, grabbed a beer and a sandwich, and just enjoyed laughing and chatting with this man that was very different from me or anyone I had ever dated before.
Despite my internal dialogue, the night easily segued from finishing our drink at Bierkraft to deciding to walk into Union Hall to play bocce ball (and quickly running out because it was overcrowded). Instead, I eagerly took Will to the nearby beer garden, Mission Dolores, where nice dogs usually hang out. Now becoming filled with excitement, I pulled Will several blocks south to see live music at Barbès. Upon arriving, the conversation was so engaging that I decided not to stop talking when the band started to play in the back room. At one point Will asked when the band would go on, and I pointed towards the musicians playing in the room to which he then genuinely said, "Wow I thought that music was just playing from a stereo" — once again a comment to bring me back to earth. Nevertheless, after Barbès it felt like the night really shouldn't end just yet so we went to Pork Slope for early-AM tater tots and our final farewells.
Our first 'non-date' lasted about 6 hours across 5 locations.
When I Knew It Was Love (Arminda's Side of the Story)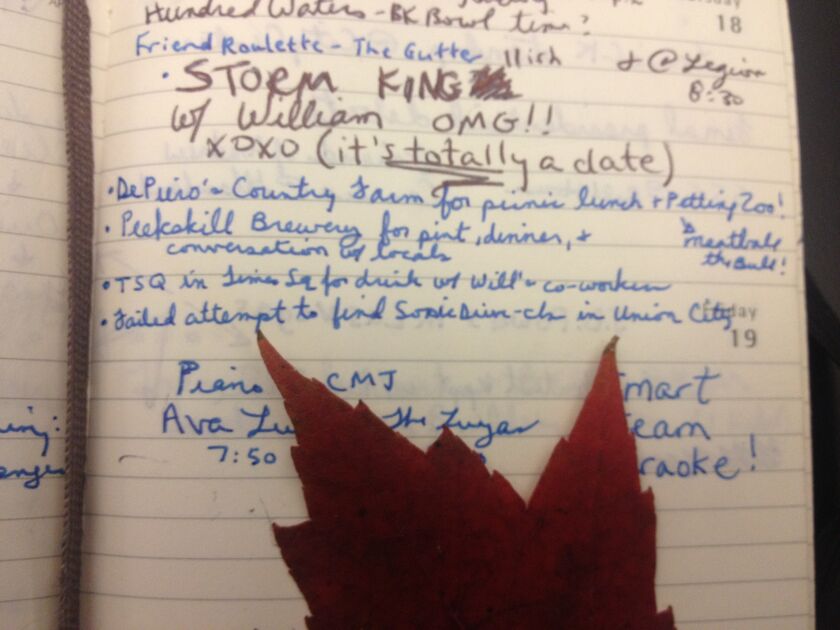 Secretly, I already knew I had feelings for Will back from the first time we spent an evening together alone in Park Slope. But an early moment when I first realized I was falling in love with Will happened the day we both agreed to take a random Wednesday afternoon off work in mid-October 2012 and rent a car to drive up to Storm King Art Center, a 500-acre sculpture park not far from the Hudson River Valley.
It was a beautiful autumn day -- the trees were already turning magnificent yellows, oranges and reds. We were both excitedly discussing the sculptures and installations as we walked the grounds. I also tried skipping a rock across the pond and hit Will square in the chest instead. At one point, we had ended up at the top of a sizable hill when Will said we should roll down it. I immediately agreed that this was exactly what we needed to do and as we both rolled down we were laughing hysterically at how silly it was, how silly we were, and while rolling down that hill I realized I was falling in love with William.

The Proposal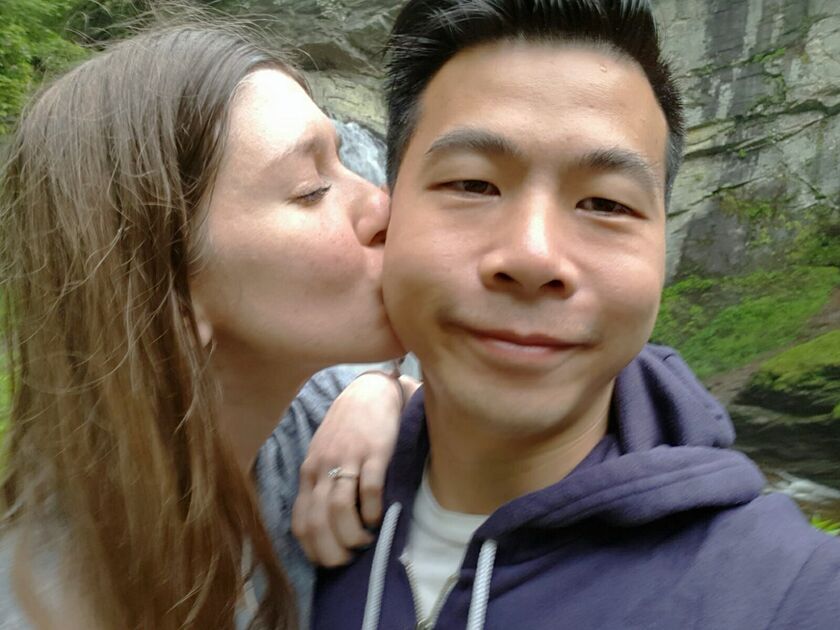 We were visiting friends in Asheville, North Carolina, and early into the trip Will asked if I would want to get up early the next day to go on a hike before everyone else woke up. True to his word, at 7am on Sunday May 28, 2017 he woke me up and we snuck out of the house quietly. I was wearing an oversized pajama top and pants, no makeup, and had an unbrushed head of hair. We stopped for coffee and then Will set our GPS destination for Looking Glass Falls in the Pisgah National Forest. We took off, myself completely unaware this trip was more than just to get fresh air. Looking back now, I can realize how nerve-racking Will must have felt with the ring in his pocket the whole time!
When we arrived, the waterfall was truly beautiful. I was so happy that Will had arranged an early morning adventure because the park was empty and we had this amazing experience all to ourselves. I excitedly walked down the wooden stairway with Will to the base of the falls.
As we stared at the water, with mist from the falls mixing with the mist of morning rain, Will said in an uncharacteristically soft voice that he had something to share. I looked at him a bit perplexed, sleep still likely in the corner of my eyes, and he got down on one knee.
-- It's worth noting at this point that Will and I have not walked a traditional path in our relationship -- it has been full of trials to continually confirm what we truly already knew deep down. First, we moved into my Brooklyn apartment together to first see if we could still love each other after sharing a home. Then we moved to London together to see if we could still love each other after moving across an ocean together. Then we bought a flat together to see if we could handle the process of jointly buying a home. I already knew by this point that I would be with Will forever, but being asked by Will to be with him forever still felt surprisingly bigger than all of the other moments that had preceded it. --
Anyone that knows me, knows I cried a lot. Thank God it was lightly raining anyway! I said Yes and don't really remember if I said any other words other than Yes. After Will managed to get the ring on my finger (after trying repeatedly to put it on my right hand until I explained to him which one was the left hand), it was the most pleasant dazed feeling I have ever felt, walking back up from the base of that waterfall to our rental car, holding hands and realizing I was in my pajamas.
The Wedding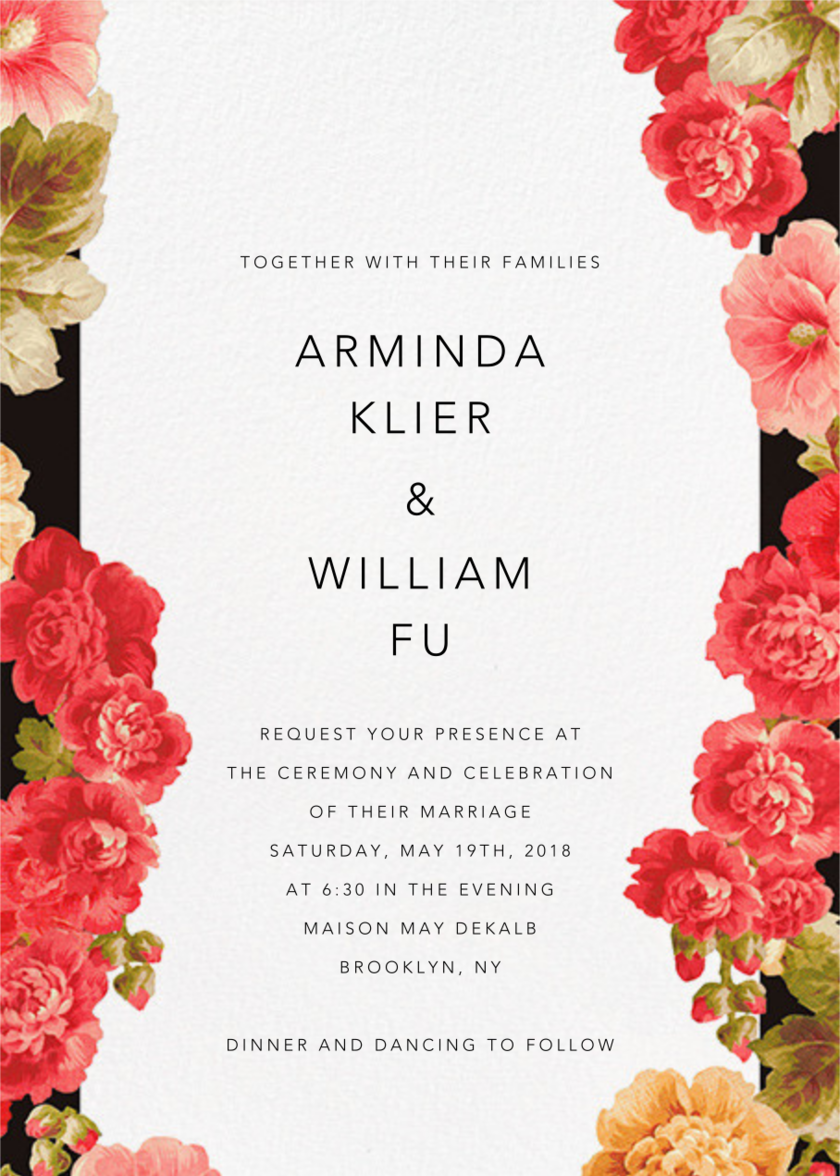 Saturday, May 19, 2018
6:30 PM
Ceremony
Maison May Dekalb
246 Dekalb Ave, Brooklyn, NY 11205, USA
Reception
Maison May Dekalb
246 Dekalb Ave, Brooklyn, NY 11205, USA
Other Events
Rehearsal Dinner
Friday, May 18, 2018
5:00 PM
Chavela's
736 Franklin Ave, Brooklyn, NY 11238, USA
Brunch with the Newlyweds
Sunday, May 20, 2018
11:00 AM
200 6th Street, Brooklyn, NY, USA
For family members, the wedding party, and any out-of-town guests:
Stop by anytime between 11am-1pm for bagels, fruit, coffee and mimosas. Kiddos are welcome to join.
RSVP to armindaklier@gmail.com
Hang-Out at Halyards
Sunday, May 20, 2018
1:00 PM
Halyards
406 3rd Ave, Brooklyn, NY 11215, USA
All guests and friends welcome!
We will be at Halyards, a friendly neighborhood bar, from 1pm-3pm on Sunday May 20th to say our final farewells to friends before catching a flight to begin our honeymoon! Come by anytime, and bring anyone you like.